From Port Jean to Porh Puns. The beach of Port Jean is well appreciated in summertime, and you should pay a visit to Port Poyed to see the remarkable stone arch. Small creeks (Porh Kerzo, Porh Yzed) are preferred by people looking for a quiet place.
Of course, one of the most famous sites of Belle-Ile is the village of Sauzon, located on the left side of a ria (of more than one kilometer long). This natural harbour is well protected from the prevailing winds and is an appreciated mooring site for yachtsmen. Such a beautiful place is much sought after by photographers and painters. Some fishermen are based at Sauzon and supply every day the tables of Belle-Ile with fish, crabs and lobsters.
(Click on the small pictures to enlarge them. Some pictures are available in high definition (about 1600x1200 pixels): click on the link "(High definition)" to open them.
| | | | | | | | | |
| --- | --- | --- | --- | --- | --- | --- | --- | --- |
| | | | | | | | | |
| | | Sauzon, November 2008 | Sauzon harbour, November 2008 | | | | | |
| | | | | | | | | |
| --- | --- | --- | --- | --- | --- | --- | --- | --- |
| | | | | | | . | | |
| Sauzon harbour in December... | ...and in summer, with more boats... | Facing towards the extremity of the ria. | | A calm day in the harbour. | General view of the ria. | The ria of Sauzon seen from Brenantec. | The "Morrigan" is ready for fishing. | |
| | | | | | | | | |
| --- | --- | --- | --- | --- | --- | --- | --- | --- |
| | | | | | | | | |
| In the morning, on the harbour. | In the small streets of the village. | | Sauzon, seen from the right side. | General view from the pier. | Winter evening. | Sauzon, seen from Fort Blanc. | | |
Sauzon seen by the artists :
| | | | | | | | | |
| --- | --- | --- | --- | --- | --- | --- | --- | --- |
| | | | | | | | | |
| Gavy-Gouillard, 1986 | | Jean Hélion, sea spider market(1976) | Maxime Maufra, 1905 | | Sauzon, 1982, Gérald Musch | Maxime Maufra, low tide at Sauzon | Emile Sabouraud, 1990 | Philippe Vandenberghe, 1989 |
Some weathercocks at Sauzon:
| | | | | | | |
| --- | --- | --- | --- | --- | --- | --- |
| | | | | | | |
| | | | | | | |
Some keys to decode the local toponimy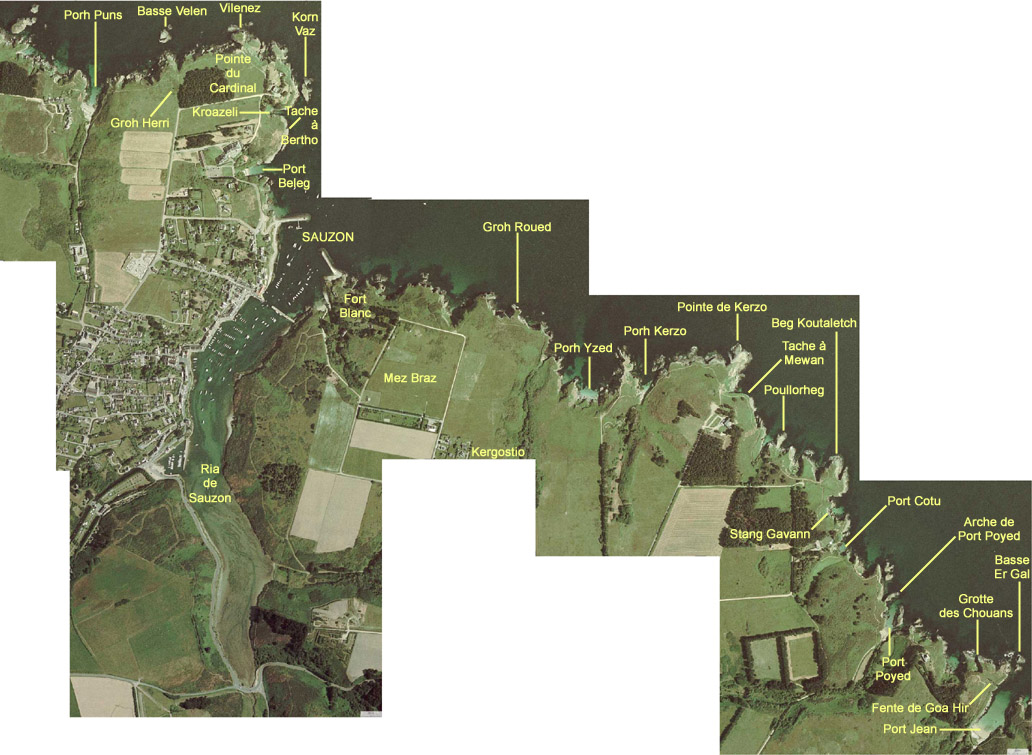 | | | | | | | | | |
| --- | --- | --- | --- | --- | --- | --- | --- | --- |
| | | | | | | | | |
| Stone arch of Port-Poyed, with some cormorants. | | Panoramic view of Sauzon | Sauzon harbour, February 2005 | Fishing nets on the pier, Sauzon harbour. | | Sauzon, from the access road. | Inside the church Saint Nicolas. | The fishing boat "Otoctone 2" (has left Belle-Ile) |
| | | | | | | | | | | |
| --- | --- | --- | --- | --- | --- | --- | --- | --- | --- | --- |
| | | | | | | | | | | |
| | | The creek of Porh Kerzo | | The creek of Porh Yzed | | Fishing near Kerzo forehand | | | | |